Where to get the apps
Key features
Real-time, multi-asset market data
Professional news from leading sources
Charts, orderbook and trades data
Customizable user interface on iPad
Equity analytics on global listed companies
Trading via your broker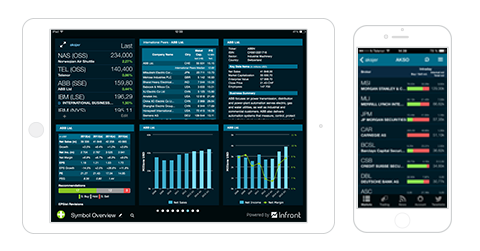 A terminal in your pocket
Infront Mobile apps give you access to a wealth of data, including in-depth equity analytics and estimates, news with full-text search, market calendar, index overviews with leaders and laggers, company descriptions, broker statistics, heat maps showing instruments by turnover and performance, and lots, lots more.
Keep your watchlist in the cloud
Forget about maintaining duplicate instrument lists. Create a list in the Infront terminal or on any of your mobile devices and automatically sync in the cloud.  Real-time data, charts, news, analytics and trading are always a click (or tap) away from your list, so you'll always have critical info at hand.
Trading-ready
Brokers can work with Infront to connect Infront Mobile apps to their trading infrastructure and enable mobile trading for their clients. Not sure whether your broker offers trading via Infront?  Check the list of Infront-enabled brokers.